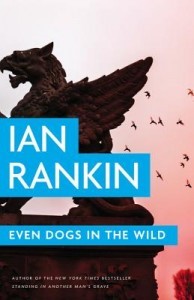 This ran as part of the Nerdy Special List at Pop Culture Nerd. You should read all the recommendations;click here to do so!
I'm not sure exactly how it's possible that Ian Rankin's books keep getting better, but they do. Even Dogs in the Wild is the latest in his Rebus series, but I wouldn't call this a Rebus book, because Rankin's universe of characters, including Siobhan Clarke, Malcolm Fox, and Big Ger Cafferty, are every bit as much a part of the story as John is.
Rankin can weave a mystery as well as any storyteller, and he does exactly that in this novel. Murders connected by ominous notes at the scene and committed by an apparently invisible individual would be a conundrum to lesser cops, but Rebus, Clarke, and Fox are a formidable team. And it is against this backdrop that Rankin unfolds one of the sharpest studies in character—into the human heart and soul—in modern literature, and it is a pleasure to read.
Rankin will be touring in the US starting at the end of January (specific info available on his website). He'll be in New York, St. Louis, Austin, Los Angeles, San Francisco, San Diego, Phoenix, and—wait for it—Fairway, Kansas.