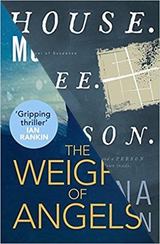 Ali McGovern is holding her life—and her family—together, but just. A new well-paid job is what she needs. A dead body in a shallow muddy grave across the street from her house is not.
Ali's new job is at a private psychiatric hospital. Having been hired despite her lack of copious qualifications (after making some creative adjustments to her resume), she's not entirely comfortable going in, but quickly finds that her skills are needed by the hospital's residents, some of whom have been there for quite a while. The facility is run by a spooky couple, but Ali gets on with things, right up until her success with patients gets her in trouble with said spooky couple.
Meanwhile, the investigation into that body across the street—a body that police say Ali's son discovered—draws Ali in as she tries to figure out what, if anything, her son has to do with the death.
As if that's not enough, an unexplained trauma in Ali's past haunts her every move, making her family certain she's on the edge of something terrible and causing her to question her every move.
Catriona McPherson is one of those rare authors who can draw characters who jump off the page and into readers' hearts, putting them in places and situations that are as fascinating as they are terrifying. HOUSE. TREE. PERSON.* is no exception. (Oh, and the title refers to a psychiatric test that's explained in the book.) This is a story that pulls you in and along every twist and turn…my only complaint about it is that it had to end.
*Titled THE WEIGHT OF ANGELS outside the US
This review was originally published at Pop Culture Nerd