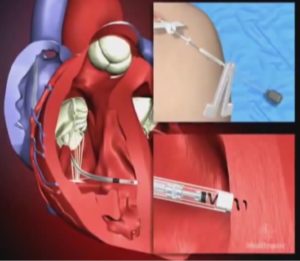 Tomorrow is a big day. I'm getting the implantable cardioverter defibrillator (ICD).
Truth? I'm nervous. But I've done everything I can to prepare and the risks of this procedure are statistically small. Still, the thought of having a big cut made in my chest and a wire anchored into my heart is more than a bit scary. So I keep going through my mental checklist to reassure myself…
A doctor who definitely and absolutely knows what he's doing? Check. Dr. Michael Fradley is a superlative doctor and a very decent human being. I'm confident in his abilities.
An understanding of the device and what I'll need to do both during the recovery period and afterwards? Check. I've read as much information as I can absorb, and asked and had answered all my questions.
All the logistics of the procedure and a night in the hospital organized? Check. Fiona, our wonderful cat sitter, will take care of the felines. I've added phone numbers to Hubs' phone so he has them handy in the unlikely event anything goes wrong. I have acquired dry shampoo (thank you for the very helpful recommendations about this!). Toenails and fingernails are trimmed (no idea why this was such an important thing to me, but it was). I have snacks to bring to the hospital (macadamia nuts) because, you know, hospital food. I've picked out clothes to wear there and back that are comfy and easy to put on. The hospital has confirmed that the insurance company has approved the procedure, and I've paid the copay.
Good books to read to keep me occupied? Check. An early copy of John Connolly's A TIME OF TORMENT arrived just in time; I couldn't wait to start reading it! Those who know the Charlie Parker series (and if you don't, you should) will understand how funny it is that I have a picture of Angel and Louis keeping an eye on things in the OR and the Fulci brothers guarding the door. Just in case being bionic makes me suddenly able to read quickly, I also have James Lee Burke's new one, THE JEALOUS KIND, and the latest in Karin Slaughter's Will Trent series, THE KEPT WOMAN.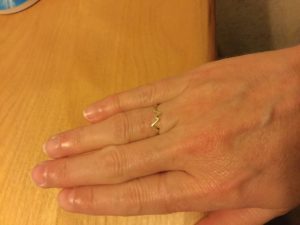 A talisman? Check. I have always had an attachment to certain objects. Surgery is a bitch that way, because I can't wear or carry in the things that are magical to me. I have a friend who understands this and is completely brilliant and one of the fiercest people I know, and she got me this heartbeat ring, which I can wear into surgery.
And most importantly: A thorough understanding and belief that this is the right thing to do? Check. This is not a small deal; once the device is in, it stays there as long as this heart is in my chest. On top of the medical and lifestyle implications, there's the acknowledgement and acceptance that this condition is real, and it's not going away.
I realize that might sound stupid. I mean, of course that's true. Duh. It's been seven months since it was diagnosed. But there's a difference between knowing it logically—accepting it, even—and having a piece of hardware inextricably linked to my physical self. This has proven the most difficult aspect of this preparation period.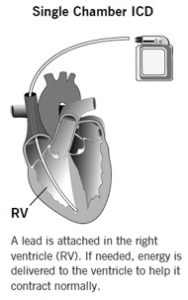 A bunch of people have asked me about the difference between a pacemaker and an ICD. As I understand it, a pacemaker is just that, and it only paces the heart when it beats too slow. An ICD has pacing capabilities—it can "pace" the heart out of a dangerous (fast) rhythm—but it also can shock the heart if it stops.
The best explanation I've seen is from the University of Iowa's website:
What a pacemaker does is keep the heart beating at the proper rate and from beating too slow. It also will only activate if it is needed, it is not shocking people all the time.
An implanted defibrillator is a bigger device. It is there to prevent death from a cardiac arrest. The device shocks the heart if it needs to be shocked, because of a life-threatening rhythm disturbance from the lower chambers of the heart. It can correct this rhythm. Because it has a pacemaker built into it, a defibrillator also has the capability of stimulating the heart like a pacemaker, to help stop fast rhythms, at times, and to prevent the heart from getting too slow.
There's an animated (not gross) video of how the ICD works here.
So there it is. I'll be up at 5 am tomorrow (Monday, May 9), and we're due to arrive at the hospital at 7:30. My procedure is scheduled for 9:30. Afterwards, I'll spend the night in the hospital. I'll be un (or barely) conscious for the most difficult parts of the whole thing, but my husband won't, and I'm nervous for him, because I know how hard waiting during something like this is.
It has been a strange few months, to be sure. I would not be here without you. Your mojo—prayers, energy, good thoughts—and tangible assistance has gotten me this far. This is a big step, and I'm not making it alone. For this, I am more grateful than I can say.