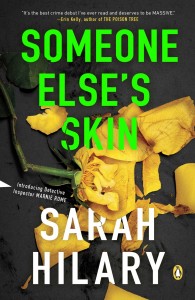 I never know quite what to expect when I open a first novel, and finding a good one, with a lead character I like and want to get to know better, is a real treat. SOMEONE ELSE'S SKIN is such a delight.
Detective Inspector Marnie Rome is tough, smart, and haunted. When she goes to interview a woman at a refuge in London, she happens on a more complex situation than she anticipated, and she never flinches as she confronts a complex web of heinous violence.
But let me be clear: The violence in SOMEONE ELSE'S SKIN is sometimes graphic, yes, but it is not gratuitous or facile. Like Marnie, this story does not flinch when addressing difficult subjects. I look forward to her next case.