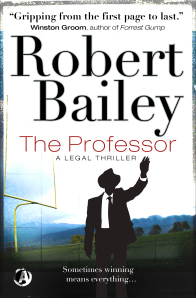 I confess: I love a good, juicy legal thriller, particularly one set in the American south. It goes back to TO KILL A MOCKINGBIRD, I imagine. Few reading experiences can compare with getting knee-deep into a case with a lawyer and his staff, following along with them to the inevitably dramatic conclusion.
Is it a formula? Sure. I fail to see anything wrong with that (I do, however, see everything wrong with people who glare down their prissy noses at any story they deem formulaic). Just as a recipe for, say, chocolate cake can result in something delicious or inedible, a legal thriller can be well executed or not.
In THE PROFESSOR, Robert Bailey takes a classic, yes, formula, and uses it to create one of the most compelling legal thrillers I've read in a long time.
What makes it work so well? The details. The ambiance. The richly drawn (without being overwrought) characters. Good guys who are virtuous without being perfect and bad guys who are the kind of bastards we all encounter far too often.
I read THE PROFESSOR without reading the jacket copy, and I'm awfully glad I did, because the story is absorbing, and it doesn't need an adjective-filled paragraph to prop it up. That said, you probably want to know what it's about…so here's my spoiler-free attempt at explaining it:
The titular Professor is one Tom McMurtrie, who teaches law (evidence, specifically) at the University of Alabama. When the family of a dear friend of Tom's is killed in a horrific car crash, he refers the case to a former student. It all sounds pretty simple, but there are numerous sub-plots and side stories that give THE PROFESSOR the kind of richness one finds all too rarely.
Side note: one of these side stories involves football coach "Bear" Bryant. I know who Coach Bryant was, but his involvement in the story was never going to be a selling point for me. I think it's unfortunate that this is positioned as a more important aspect of the story than it is for those of us who aren't into football. My point is that if you're not a fan of Coach Bryant or Alabama football, it won't take away from your enjoyment of this story at all.
THE PROFESSOR takes place in the south, but it's not a southern story any more than TO KILL A MOCKINGBIRD is. Which is to say, it is, but it so being won't detract from your enjoyment of it if you have no experience of or interest in the south. While the bulk of the marketing focus is (rightly) on the lead male characters, I think it's important to mention that Bailey has created some of the strongest and most interesting female supporting characters I've met.
I had to read the last few pages of THE PROFESSOR standing up, because I was far too emotionally involved in the story to be able to sit. It is just that good.